Through interviews, speaking engagements, conference participation, and published research, GMO provides insights that generate robust conversations.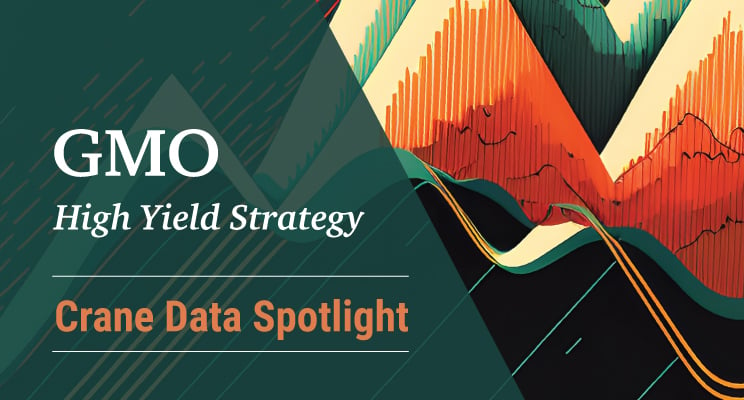 BOND FUND INTELLIGENCE ON GMO HIGH YIELD
In an August interview, Joe Auth describes the "pointy," alpha-driven High Yield Strategy.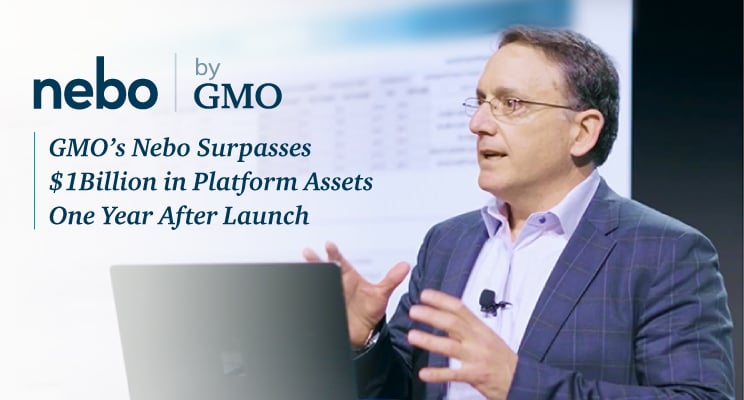 Press Release
NEBO SURPASSES $1B IN ASSETS ONE YEAR AFTER LAUNCH
GMO Portfolio Design platform Nebo provides hyper-personalized, model building capabilities to advisors.
Read our press release to learn more.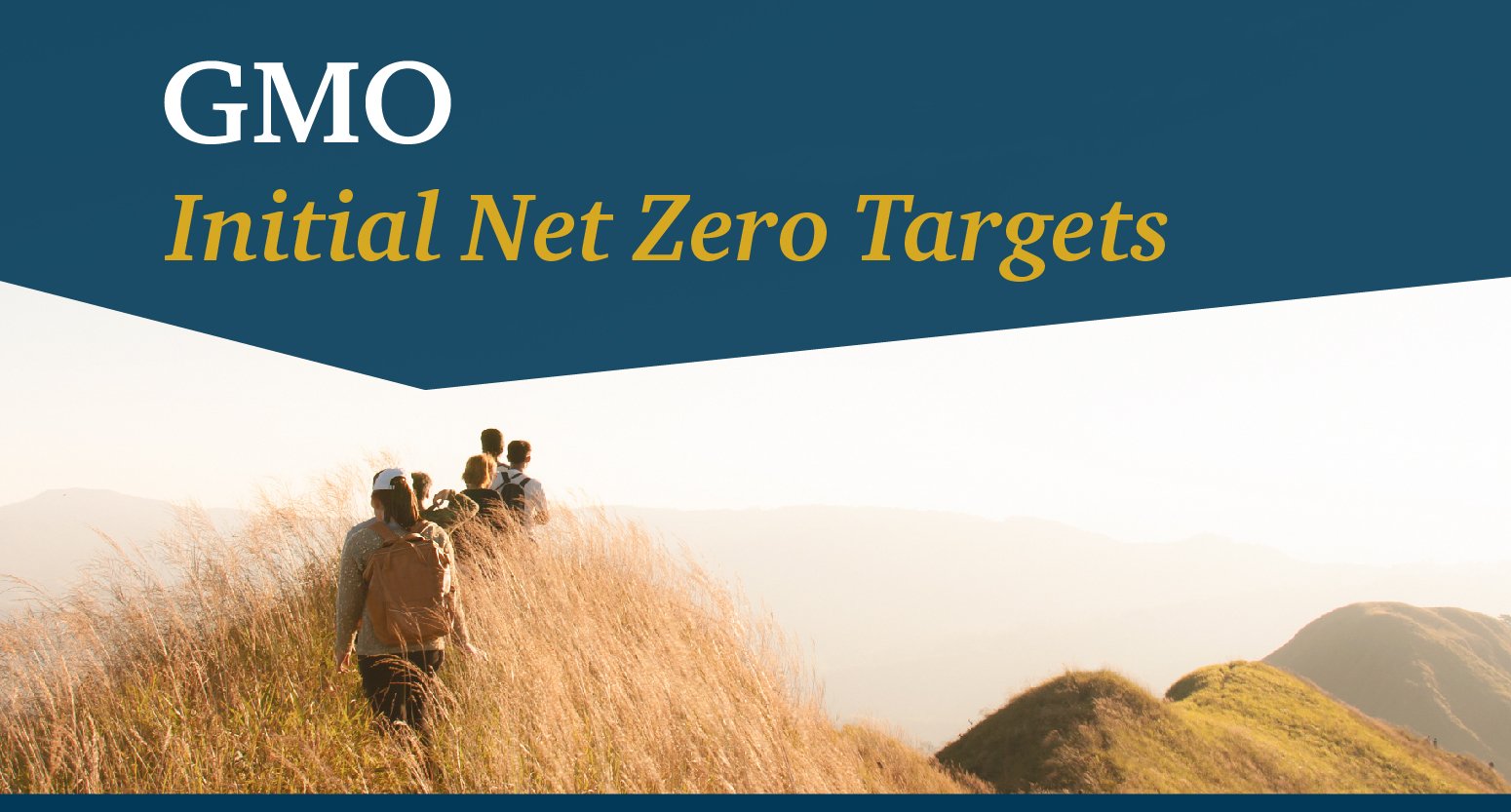 Press Release
Net Zero Asset Managers Initiative
GMO is a signatory of the Net Zero Asset Managers initiative, committing to reduce net emissions in our investments to zero by 2050 or sooner, in line with efforts to limit global warming to 1.5 degrees Celsius. We have set targets for reducing emissions and increasing the proportion of assets to be managed in line with achieving this goal.
Read about GMO's initial net zero targets.
In the News
Jeremy Grantham appeared on David Rosenberg's "Webcast with Dave", to discuss how he is investing in this increasingly uncertain world and the areas of the market that are not correlated with the recession-bound economy. (March 16, 2023)
Ben Inker appeared on Bloomberg's 'Merryn Talks Money' podcast(February 10, 2023): 'The Year of the Value Hunter Has Arrived.'
Ben Inker appeared on CNBC discussing the GMO Quarterly Letter and 'The Joy of Missing Out' (January 20, 2023): 'Fundamentals should start to matter again in stock market, says GMO's Ben Inker.'
The GMO Quarterly Letter and GMO's views on value stocks received media coverage from MarketWatch, Institutional Investor, , Financial Times, Irish Times, Wall Street Journal, The Financial Standard and Barron's among others.
Jeremy Grantham's piece 'After A Timeout, Back To The Meat Grinder' was covered by Bloomberg, Wall Street Journal, Citywire, MarketWatch, Institutional Investor, CNBC and Fortune, among others.
Lucas White featured on the Millennial Investing Podcast (January 31, 2023): 'The Bull Case for Energy.'
Jeremy Grantham appeared on theConversations with Tyler Cowen podcast (November 30, 2022)
Hassan Chowdhry and James Mendelson's 'Quality Time in Small Cap' paper covered by Institutional Investor (October 31, 2022): 'GMO: These Are the Kinds of Stocks Investors Should Bet on Now.'
Jeremy Grantham was featured in the Wall Street Journal (October 29, 2022): 'Where Are Markets Headed? Six Pros Take Their Best Guess.'
GMO Opportunistic Income featured in Morningstar Prospects list coverage (January 20, 2023):
Martin Tarlie discussed GMO's Nebo asset management platform on Advisor Perspectives 'Gaining Perspective' podcast (October 28, 2022).
John Thorndike, Tom Hancock, Lucas White and Drew Edwards featured in Value Investor Insight's profile of GMO (September 30, 2022): 'Risk and Reward.'
Jeremy Grantham appears on the We Study Billionaires podcast (July 28, 2022).
Jeremy Grantham featured in Associated Press Q&A (July 18, 2022): 'Famed buble caller Jeremy Grantham: Stocks can fall more.'
Lucas White's May 2022 GMO Quarterly Letter on Resources and inflation covered by Insider (May 27, 2022): 'Demand for natural resources is only going to get stronger: A GMO portfolio manager explains why investors haven't missed the opportunity.'
Martin Emery discusses Systematic Global Macro Investing on the Excess Returns podcast (June 2, 2022).
Jeremy Grantham quoted in Bloomberg Green (April 7, 2022): 'Russia's War Bodes Poorly for World's Resource Struggle.'
Jeremy Grantham in conversation with Bridgewater Founder Ray Dalio (May 17, 2022).
Tina Vandersteel appears on Bloomberg's Masters in Business podcast discussing emerging markets debt investing (January 21, 2022).
Scott Hayward featured in Institutional Investor's coverage of CFA Institute's DEI Code (March 22, 2022): 'CalPERS, GMO, MassPRIM, and More Commit to CFA Institute's DEI Code.'
John Thorndike interviewed by Institutional Investor (April 14, 2022): 'GMO: Value Outperformed Growth in the First Quarter. That Doesn't Mean It's Over.'
Jeremy Grantham on Bloomberg Front Row (January 26, 2022): 'Calling A Super Bubble.' The January 2022 paper 'Let The Wild Rumpus Begun' received media coverage from outlets including Bloomberg, CNBC, Financial Times, MarketWatch and Citywire.
Tom Hancock and the GMO Quality Fund profiled by Australian Financial Review (February 22, 2022): 'Why this US fund manager is bullish on Taiwan chipmaker.'
Binu George and GMO EM Ex-China featured in Bloomberg Markets Magazine (January 27, 2022): 'Stripping China From Emerging Markets Is Wall Street's New Craze.'
James Montier featured in Citywire Q&A on the inflation debate and the best way to guard against rising prices (December 7, 2021).
Jeremy Grantham appears on Citywire's Mistakes Were Made podcast (November 25, 2021).