Through interviews, speaking engagements, conference participation, and published research, GMO provides insights that generate robust conversations.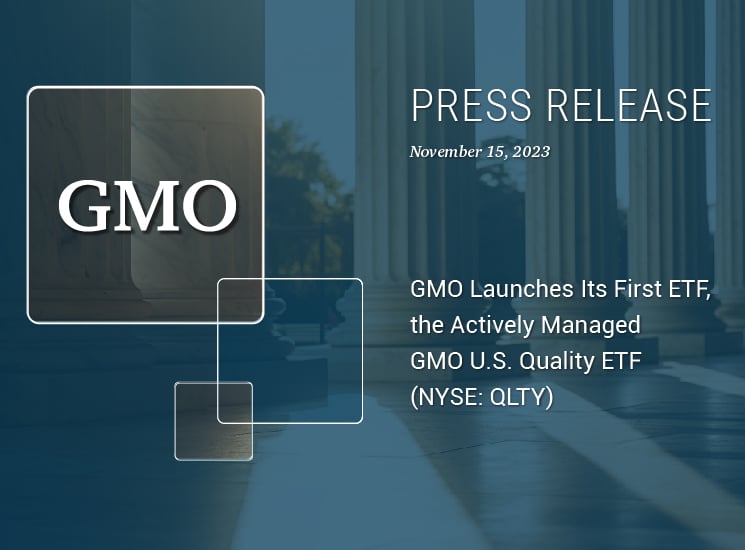 GMO U.S. Quality ETF Launch
GMO is proud to introduce our first ETF, built on 40+ years of GMO quality investing.
Read our press release to learn more.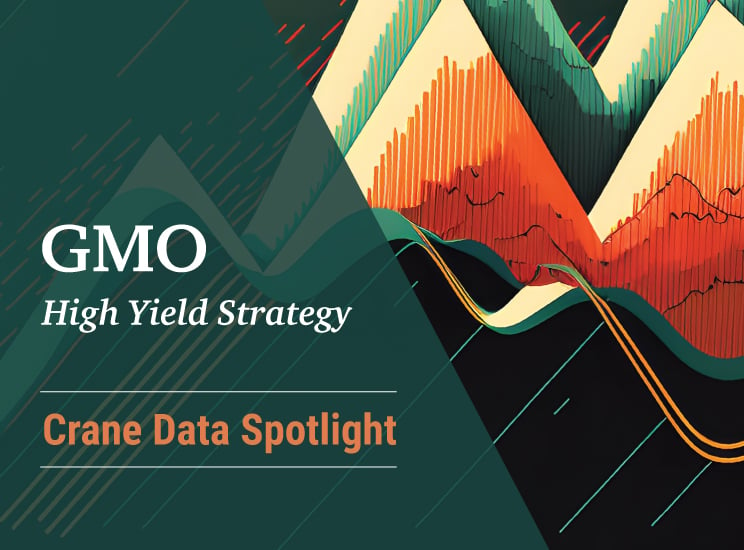 BOND FUND INTELLIGENCE ON GMO HIGH YIELD
In an August interview, Joe Auth describes the "pointy," alpha-driven High Yield Strategy.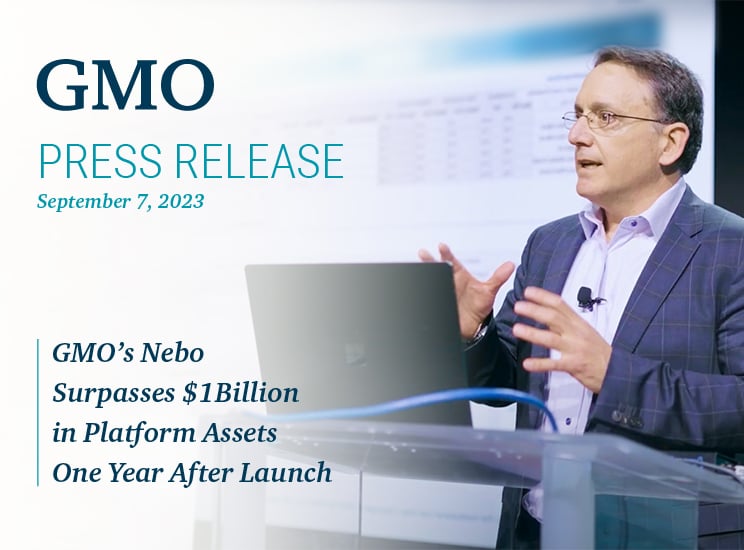 Press Release
NEBO SURPASSES $1B IN ASSETS ONE YEAR AFTER LAUNCH
GMO Portfolio Design platform Nebo provides hyper-personalized, model building capabilities to advisors.
Read our press release to learn more.
In the News
Jeremy Grantham appeared on Bloomberg Wealth with David Rubenstein (September 6, 2023)
James Montier appeared on Bloomberg's Odd Lots podcast ( June 23, 2023): 'James Montier Explains Why Corporate Profits Keep Going Up.'
Tom Hancock featured in Wall Street Journal on quality stocks (July 28, 2023): 'The Boring Route to Exciting Stock Returns Is Set for a Comeback.'
Ben Inker featured in Barron's on growth traps (July 27, 2023): 'Learn How to Spot the Growth Traps—and Dodge Them.'
Deborah Ng and GMO's Indirect Emissions model featured by Institutional Investor (July 19, 2023): 'Investors Have Incomplete Data on Corporate Emissions. GMO Wants to Change That.'
Lucas White appeared on Consuelo Mack's WealthTrack (July 14, 2023): 'The Unique Approach of Lucas White's High-Performing GMO Climate Change Fund.'
James Montier's paper on 'Slow-burn Minskey Moments' covered by the Financial Times, Institutional Investor, Bloomberg, Advisor Perspectives and Insider, among others.
John Thorndike featured in Nikkei (July 8, 2023): 'We ask three U.S. institutional investors about the conditions they expect from Japanese stocks.'
Jeremy Grantham, Ben Inker, Rick Friedman and Joe Auth featured in Wall Street Journal story on GMO (July 1, 2023): 'Grantham Warns AI Boom Won't Prevent Market Bubble From Bursting.'
Ben Inker featured in Barron's story on value stocks (June 7, 2023): 'Deep Value Stocks Are Super Cheap. Why a Recession Isn't a Worry.'
Carl Ross featured in Barron's story on emerging markets debt (May 2, 2023): 'Emerging Market Debt Can Be a Steal. Just Know What You're Taking.'
Drew Edwards featured in Financial Times' Unhedged (March 31, 2023): 'Japan goes capitalist?'
Ben Inker appeared on Bloomberg's 'Merryn Talks Money' podcast (February 10, 2023): 'The Year of the Value Hunter Has Arrived.'
Ben Inker appeared on CNBC discussing the GMO Quarterly Letter and 'The Joy of Missing Out' (January 20, 2023): 'Fundamentals should start to matter again in stock market, says GMO's Ben Inker.'
The GMO Quarterly Letter and GMO's views on value stocks received media coverage from MarketWatch, Institutional Investor, Australian Financial Review, Financial Times, Irish Times, Wall Street Journal, The Financial Standard and Barron's among others.
Lucas White featured on the Millennial Investing Podcast (January 31, 2023): 'The Bull Case for Energy.'
Jeremy Grantham appeared on the Conversations with Tyler Cowen podcast (November 30, 2022)
Hassan Chowdhry and James Mendelson's 'Quality Time in Small Cap' paper covered by Institutional Investor (October 31, 2022): 'GMO: These Are the Kinds of Stocks Investors Should Bet on Now.'
Jeremy Grantham was featured in the Wall Street Journal (October 29, 2022): 'Where Are Markets Headed? Six Pros Take Their Best Guess.'
GMO Opportunistic Income featured in Morningstar Prospects list coverage (January 20, 2023): '4 New Funds on Our Radar.'
Martin Tarlie discussed GMO's Nebo asset management platform on Advisor Perspectives 'Gaining Perspective' podcast (October 28, 2022).
John Thorndike, Tom Hancock, Lucas White and Drew Edwards featured in Value Investor Insight's profile of GMO (September 30, 2022): 'Risk and Reward.'
Jeremy Grantham quoted in Bloomberg Green (April 7, 2022): 'Russia's War Bodes Poorly for World's Resource Struggle.'
Jeremy Grantham in conversation with Bridgewater Founder Ray Dalio (May 17, 2022).
Tina Vandersteel appears on Bloomberg's Masters in Business podcast discussing emerging markets debt investing (January 21, 2022).