Why GMO ETFs
Our exchange-traded funds (ETFs) are built on more than 45 years of experience and offer a flexible way of investing in innovative GMO solutions.
Active, Transparent

Actively managed with daily holdings transparency

Tax-Efficient

Tax efficiency for U.S. taxable shareholders from fewer taxable events

Access and Scalability

No minimum size required to invest in long-running, institutional-grade strategies
Our Investment Philosophy
Highly specialized GMO investment teams are grounded in a common belief that a long-term, valuation-based approach will maximize risk-adjusted returns.
We are known for our willingness to challenge the status quo and the creative ways we approach investment problems.
These core philosophies power our singular drive to deliver outstanding long-term investment returns to our clients, including in our ETFs.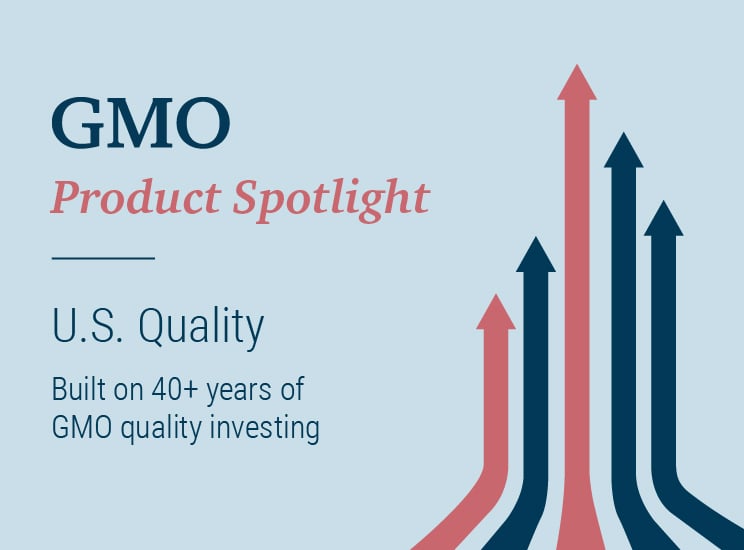 Featured Product
GMO U.S. Quality ETF
Now offered as an ETF (NYSE: QLTY), our proprietary U.S. Quality investment process seeks to enhance returns and mitigate risk by combining a focus on valuation with a powerful blend of quantitative discipline and fundamental analysis. We believe investing in high-quality businesses wins over time with lower risk.
An investor should consider the fund's investment objectives, risks, charges and expenses before investing. This and other important information can be found in the fund's prospectus. Read the prospectus carefully before investing.
Risks associated with investing in the Fund may include: (1) Market Risk - Equities: The market price of an equity may decline due to factors affecting the issuer or its industry or the economy and equity markets generally. Declines in stock market prices generally are likely to reduce the net asset value of the Fund's shares. (2) Management and Operational Risk: The risk that GMO's investment techniques will fail to produce desired results. (3) Focused Investment Risk: The Fund invests its assets in the securities of a limited number of issuers, and a decline in the market price of a particular security held by the Fund may affect the Fund's performance more than if the Fund invested in the securities of a larger number of issuers. For a more complete discussion of these risks and others, please consult the Fund's prospectus.
The GMO ETFs are distributed in the United States by Foreside Fund Services LLC. GMO and Foreside Fund Services LLC are not affiliated.