Presenter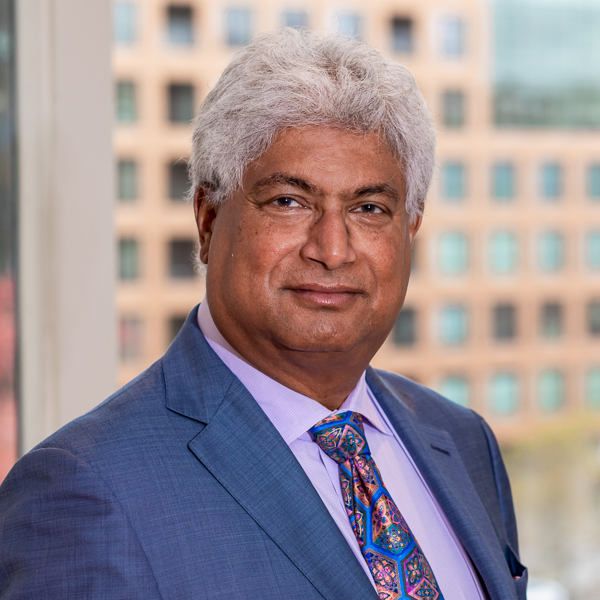 Arjun Divecha
Overview
Government intervention has always been a key risk to investing in emerging markets. Chinese regulatory actions today are no different. In this presentation, we focus on China's "Principal Contradictions" to understand major policy shifts and how they affect investment within China. We discuss how investors should think about their China exposure, and how an EM ex-China strategy enables investors to precisely target their China allocation.
Contact Us to Watch the Replay*
*This content is intended for accredited investors only.
---
Key Points
What is going on in China? Growing imbalances are at odds with the people's ever-growing need for a better life. Major policy shifts are thus aimed at inequality, demographics, and industries of national importance.
Are we getting out of China? No, but an analytical framework to identify strategic winners and losers is prudent. Government intervention is profoundly impacting the fortunes of sectors and companies within China.
How should one think about China exposure? Look for managers who can modulate their weight to China. As our team's founder Arjun Divecha says, "never fall in love." Investors should also consider separating China from their other EM exposures. China's representation in the asset class has grown to 40%, which carries distinct risks and opportunities that warrant unique scrutiny by allocators.
What is the case for EM ex-China? EM ex-China is an increasingly valuable building block. A top-down approach offers a significant edge in this space because removing China from an EM allocation dramatically reduces the opportunity set for stock selection, but barely impacts the opportunities for country or sector allocation.
The kicker is that GMO's EM and EM ex-China Strategies focus on value (and quality). EM value is cheaper today than it was in 2000 and poised for a massive rebound.
---
The top-down opportunity is sizable
Getting the country right matters a lot – much more so in EM than in DM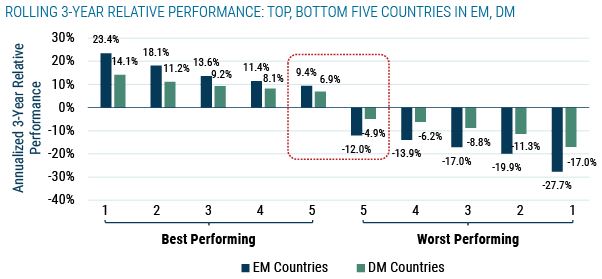 1/31/2000 – 12/31/2020 | Source: MSCI, S&P, GMO
---
Related Strategies
Please click on the links below to access strategies related to this event.
---
Disclaimer: The views expressed are through the period ending November 2021, and are subject to change at any time based on market and other conditions. This is not an offer or solicitation for the purchase or sale of any security and should not be construed as such. References to specific securities and issuers are for illustrative purposes only and are not intended to be, and should not be interpreted as, recommendations to purchase or sell such securities.
Copyright © 2021 by GMO LLC. All rights reserved.