Partners in Investing
for over 40 years
About GMO
Our Capabilities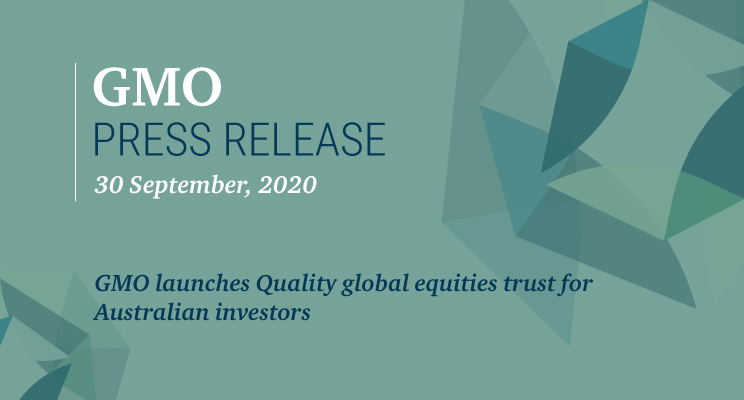 New GMO Quality Australian Trust
GMO has launched a new Australian investment trust that provides Australian investors with access to our Quality Strategy. Launched in 2004, the GMO Quality Strategy invests in the highest quality and most durable businesses globally. Read our press release or click to learn more about the new Quality Trust.
Featured Video
GMO Quality Strategy
GMO's Quality Strategy looks to build an equity portfolio of the highest quality companies globally that investors can hold over the long term through both up and down markets. Our approach leverages the pioneering work GMO has been doing since the 1980s in systematically measuring quality characteristics. To learn more about our strategy, click here.
2Q 2020
GMO Quarterly Letter
The task of investing has unquestionably just gotten harder. Investors will need to think more creatively than they have had to historically in order to get the services they used to get from bonds or to build a portfolio that doesn't require those services in the first place. That task is by no means impossible, but it will require more thought and creativity than it once did.
GMO is Investing: Acquiring Japan Equity Manager and Hiring Two Senior Investment Leaders
GMO's world-class investment capabilities are getting even stronger. We have agreed to acquire Japan equity manager Usonian Investments, led by Drew Edwards, which has delivered an excellent track record over the past decade by combining a fundamental, value-oriented approach with active management engagement. Also, George Sakoulis and Roy Henriksson will join our investment leadership in the coming months, adding deep, complementary expertise. We are investing in talent and alpha sources that will benefit GMO clients for years to come. Read our press release for more details.
Featured Video
Jeremy Grantham on CNBC's Closing Bell
Jeremy Grantham and CNBC's Wilfred Frost discuss GMO's outlook on the market, the coronavirus pandemic and why the current environment may be the fourth 'Real McCoy' bubble of Jeremy's investing career.